About Us
WELCOME TO KINGS CREEK STATION
It was a trip to the Northern Territory in April 2019 when my business partners and I first ventured onto Kings Creek Station. We'd heard that Ian Conway was looking to retire and threw our hat into the ring as prospective new owners. Ian and his team were kind enough to show us around the beautiful property, when I say around, that's part exaggeration, as the back fence is about 3 hours drive from the front fence! On the drive home we knew that this property was the right fit for us and hoped that Ian would feel the same way.
Purchasing the station wasn't without its challenges, and for Ian parting with his life's work meant finding buyers with values and beliefs similar to his own. Moving forward, Ian recognised in us, that his values were our values and as they say the rest is history. Following the Conway's as the new owners of Kings Creek Station is an honour, and something we don't take lightly. Whatever the future holds for Kings Creek Station, the history of Ian and his family and generations past will be forever recognised and respected.
Tony McFadzean
CEO & Co-Owner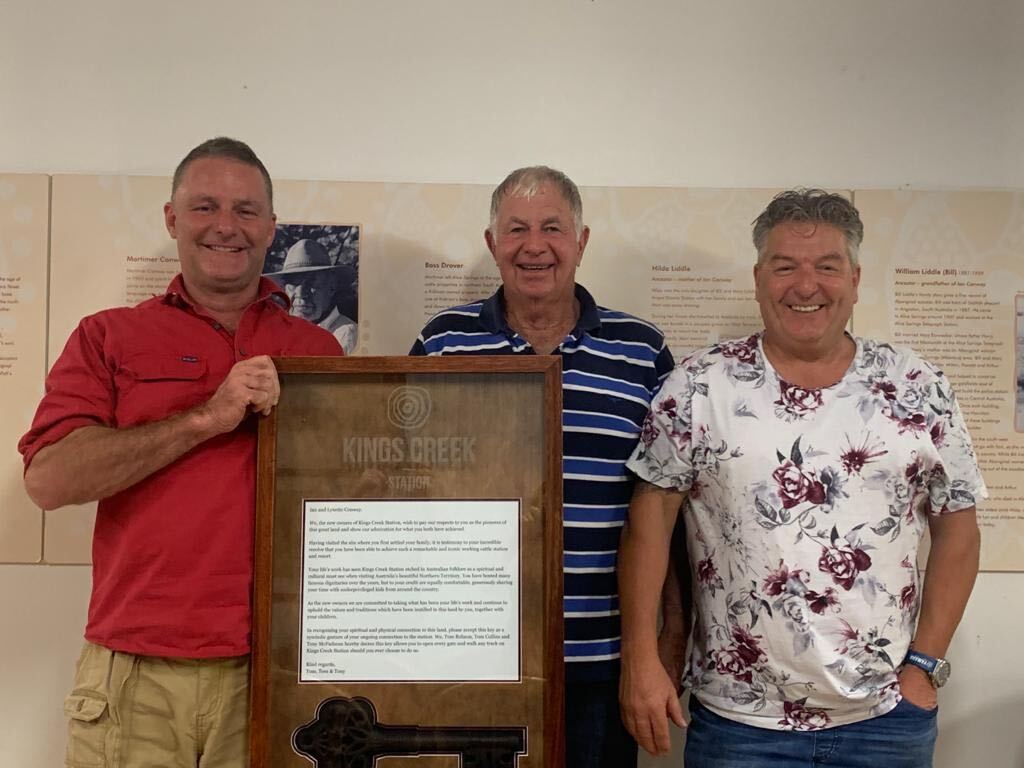 Ian's Farewell (from left: Tom Collins, Ian Conway & Tony McFadzean)
OUR HISTORY
Kings Creek Station was established in 1981 by Ian and Lyn Conway. This was originally vacant crown land with no infrastructure – no water, no electricity, no communications, no roads and no buildings.
Originally the vision was to run the Station as a cattle/camel property. Since then tourism has taken precedence although Kings Creek Station still runs cattle and exports camels. Kings Creek covers an area of 2,200 sq kilometres of which 100 sq K's is Freehold, the remainder being Leasehold.
Ian Conway is the grandson of William Liddle, who, in 1907, was the first permanent pastoralist in the Kings Canyon region. In 1929 Liddle took up a pastoral lease known as Angas Downs Station. Liddle's first wife was an Arrente woman from Alice Springs. Bill and Mary had four children, the eldest being Hilda, Ian's mother.

Ian's father, Mortimer, was also born to an Arrente Woman and a white pastoralist. Mortimer attended the first school in Alice Springs in 1914. He then went on to work for Syd Kidman for 20 odd years as a boss drover.
Lyn Conway was born in Adelaide and met Ian in Alice Springs. When they first started Kings Creek Station, Lyn was more or less thrown into the deep end as there was no infrastructure. Everyday chores were very difficult especially with 2 young children.